Hi-Fold Door Corporation has enjoyed many firsts. Our custom high-clearance hangar doors come first in the market for quality, first for overhead clearance, and first for ease of installation and operation. These accomplishments, paired with our full-spectrum customer-service, make us the first-rate resource for industrial hangar doors in North America. This is a reputation that we work to earn and never take for granted.
Whether it's the highest clearance in the industry, or the highest quality hydraulic motion on a single-panel door, we're always working to meet our customers' needs. We take requests and we enjoy the process that goes into each custom door including standard bi-fold and hydraulic hangar doors, agricultural doors, aircraft doors, commercial or residential shop doors, or other architectural designs.
The best choice for maximizing space, bi-fold doors roll on steel wheels and fold neatly upwards to provide more clearance for your equipment without sparing any headroom. The doors have strong factory welded leaf type hinges at the center line and top of the door.
Our high-clearance hi-fold door with optional patented auxiliary arms, offer 12-24 more inches of overhead clearance than any other door on the market, making our high-clearance bi-fold hangar doors the perfect solution for larger equipment. Our standard bi-fold door is a great choice for taller buildings, and offers the same strength and quality you'd expect from a Hi-Fold Door.
In addition, each industrial hangar door can be further customized to fully accommodate the needs of your garage, shop, farm, or hangar. For further information about our Hi-Fold and Bi-Fold doors, you can read more here.
---
High-Quality Hydraulic Door Components
Minimal Maintenance In All Climates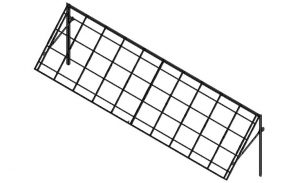 Hi-Fold completely merged its electronic and hydraulic systems for more adjustable features and the smoothest, most reliable performance on the market today. Our optional, patented sensing package, Revolutionary Door Control Module, gently increases and decreases oil flow to the cylinders. The system is so exact that it is able to synchronize both cylinders within a quarter of an inch. The speed of the system can be completely customized, with up to five custom settings being programmed at a time.
In addition to its functional ease, the No-Fold design also provides many structural benefits. When fully raised, the extended door provides a generous canopy. When closed, it is completely weather-tight and secure from the exterior. It's clean and contained design also makes maintenance and troubleshooting minimal because there are so few components at play. For more information about our No-Fold single-panel hydraulic doors, you can read more here.
Each Hi-Fold door is made-to-order and comes fully assembled for ease of installation. For all further questions, or to learn more about our custom design capabilities, contact us at (800) 443-6536.
High-Clearance Bi-Fold Doors for Hangars
Get the highest door opening clearance on the market.
Learn More
Higher Quality No-Fold Hydraulic Doors
Experience the smoothest hydraulic door operator on the market.
Learn More