High Speed, Hydraulically-Powered Operator Option (U.S. Patent No. 7,219,711)
Get the speed and power only a hydraulic operator can offer. A two horsepower electric motor runs a hydraulic pump and supplies pressure to a hydraulic wheel motor. System comes complete with a safety brake to lock door in position in the event of hydraulic pressure loss. System is shipped fully assembled, wired, plumbed and tested. Maintenance free operation in all climates.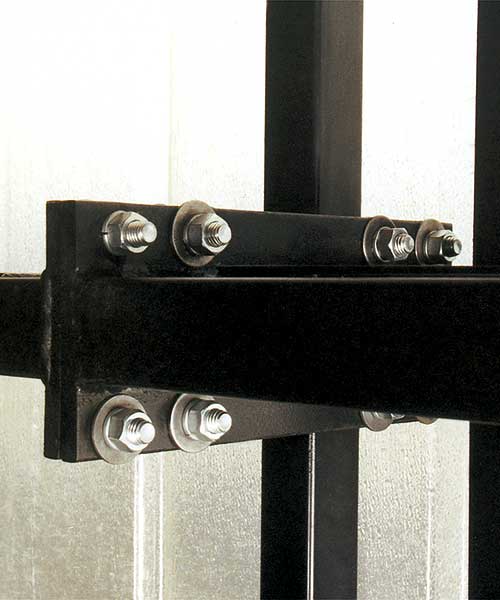 Welded-Steel Frame Assures Long Life
Hi-Fold Door panels are built with double, rectangular, structural-steel tubes at the center hinge line (2″ x 4″ on doors to 46' wide; 2″ x 6″ on wider doors) and 1 1/2″ or 2″ square structural-steel tubing, depending on door size, for the remainder of the frame. Doors over 46' wide are made in two sections that bolt together through super-strong, 1/2″ steel butt-plate joints. Strong mounting hinges (4,5,7 or 9, depending on door width) are welded to the top rail.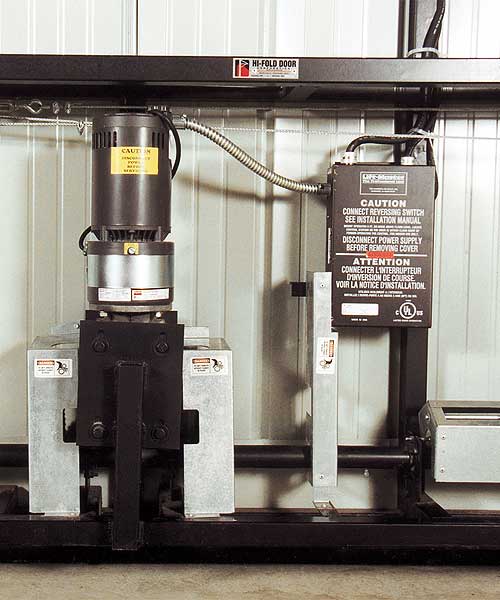 Powerful drive system assures dependable operation
Name brand electric motor (1 hp to 2 hp depending on door size) with worm-gear speed reducer connected to a torque-free, 2″ diameter drive shaft by a double jack-shaft and heavy-duty roller chain opens the Hi-Fold Door. Motor and electrical systems are mounted 18″ or more above the floor on the side of the door for easy maintenance and to meet the National Electrical Code, Section 513 specifications, pertaining to aircraft hangars.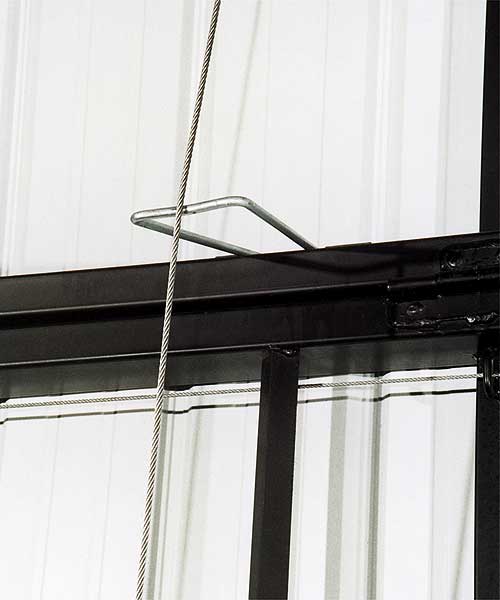 Pulley-free design minimizes cable wear and promotes safe operation
Hi-Fold Doors are delivered completely rigged. 7/32″ lift cables with a 5 to 1 safety factor are secured to top rail of the door and wrap around large diameter drums on the full-width drive shaft as the door rises. Cable guards cover the lift drums to protect people, clothing, and pets. Lift cable "poppers" (inset photo) automatically push the center hinge away from the building as the door rises.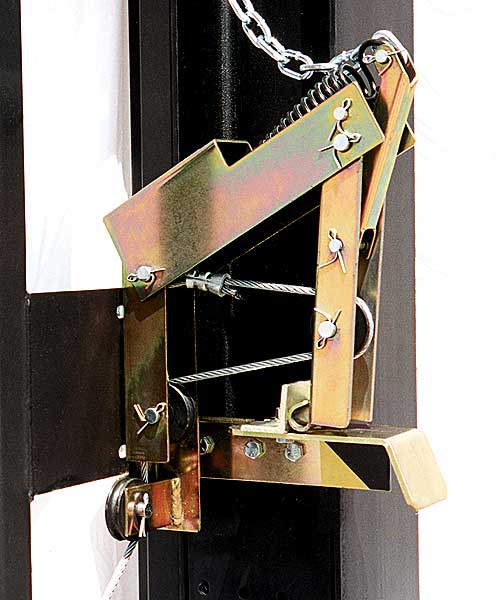 Optional Automatic Jamb Latches (U.S. Patent No. 5,343,923)
Patented automatic, "knee-action" jamb latches release the Hi-Fold Door when opening, and grab latching hardware on your building when closing, to pull it tight against the jambs. An optional full-width safety edge reverses the door if an obstacle is encountered. Automatic cane-bolt, on doors over 40′ wide, secures and releases the door at the floor. Optional radio control lets you operate the door from outside your building. Optional remote antenna increases transmitter range.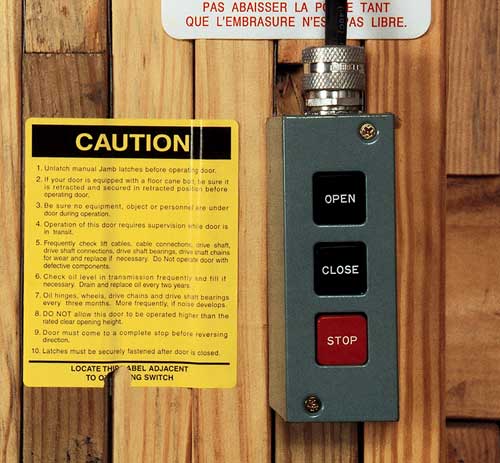 Convenient 'Open-Close-Stop' Push-Button Control
24-volt system mounts at any handy location inside the building near the Hi-Fold Door. Normally does not require conduit (depending on local codes), which allows pre-wiring and flexible cable on the building frame. For safety, the operator must push the "stop" button before changing door direction. Can be stopped and started at any midpoint. Electric brake is standard. Comes factory-wired for 110-volts on 1 hp doors; 220-volts on 1.5 hp& 2 hp doors. Radio remote control is optional.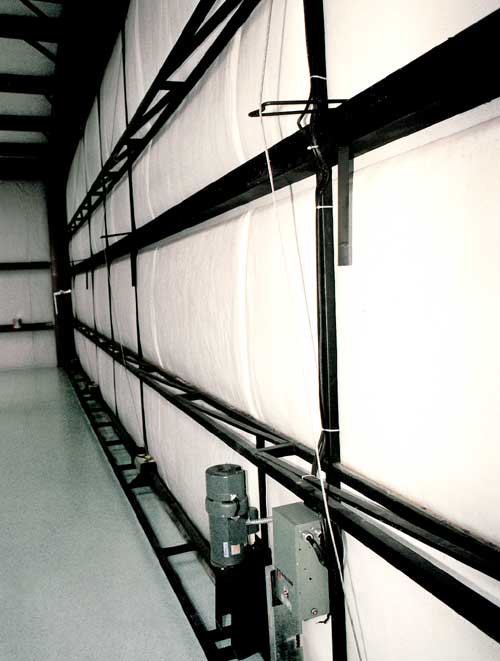 Welded-Steel Trusses Withstand High Winds
All Hi-Fold Doors receive one to three inside trusses. Made of heavy-gauge, steel tubing with angle-iron webbing, they provide extra strength to control wind-load deflection when the door is closed and to help the "dogleg" center hinge eliminate sag when the door is open. Doors over 26′ wide receive full-width trussing in the middle of the top and bottom panels, plus the bottom truss, which holds the drive system. Smaller doors require the bottom truss only.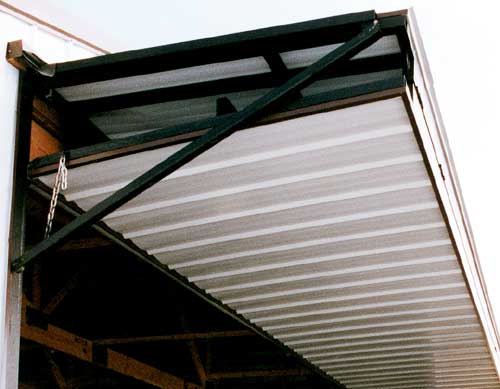 Auxiliary Arms Provide High Clearance Advantages (U.S. Patent No. 4,609,027)
Patented auxiliary arms on each side of the Hi-Fold Door enable it to open completely while requiring less overhead space. As the door rises, smooth rolling steel wheels on the arms contact the optional reinforcement rails on both jamb posts to provide strong, dependable support. Double-strength center hinge, welded-steel wind trusses and strong, vertical joints combine with the auxiliary arms to hold the door in the horizontal, sag-free, full position. (U.S. Patent No. 4,609,027)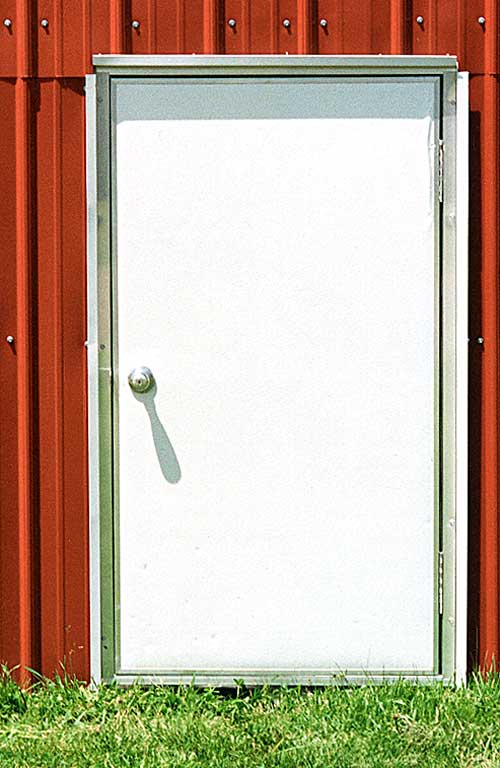 Optional Walk Doors & Windows
Add to the convenience and appearance of your Hi-Fold Door by ordering walk doors for easy access to your building and/or windows for natural lighting inside. Choose from a wide variety of attractive styles and sizes. Framed openings for the door and windows you desire are welded into your Hi-Fold Door panels at the factory. Walk door and windows are then easily mounted in place after the Hi-Fold Door is installed on your building.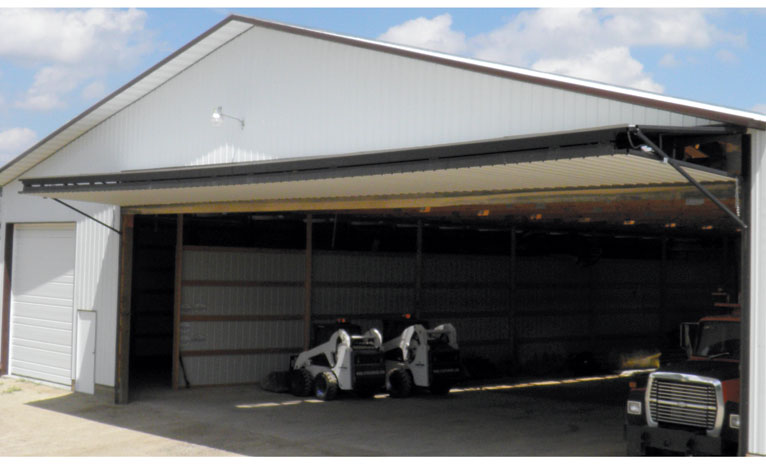 Double-Strength Center Hinge Design Eliminates Sagging
Unique, "dogleg" center hinge design, formed by the rectangular-steel members on both the top and bottom Hi-Fold Door panels, provides a "double-strength" beam that virtually eliminates sagging in the full-open position. This strength, combined with the strength of the welded-steel trusses on the inside of the door, provides even greater resistance to wind-load when the door is closed. A floor cane-bolt on all doors over 40′ wide further resists wind-loads.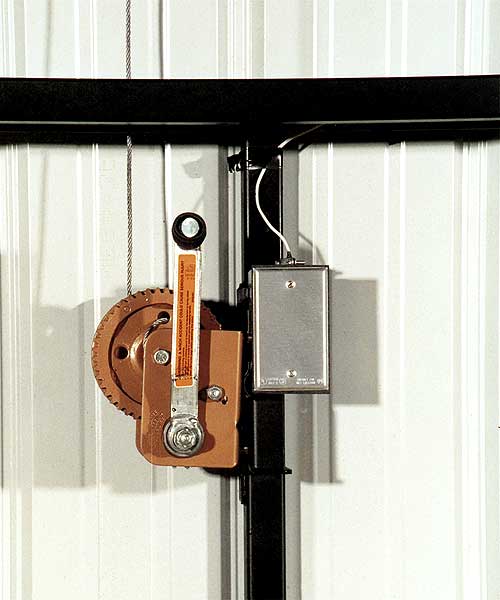 Single Location Crank Latch (U.S. Patent No. 6,547,292)
Mounted inside building on door, these self-adjusting latches tightly draw and secure Hi-Fold Door against jambs to protect against thieves and bad weather. Electrical interrupt supplied to guard against damage if locks are not fully released prior to operation. A durable bottom weather seal adjusts to floor irregularities; 9″ and 12″ top door seals are optional.& 2 hp doors. Radio remote control is optional.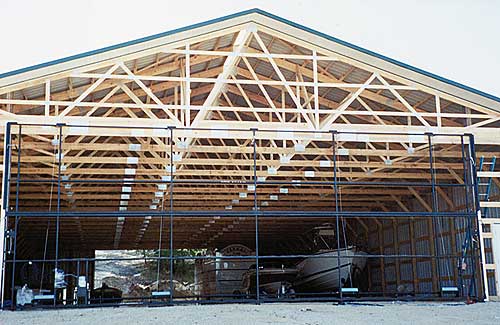 Shipped Fully Assembled for Fast, Easy Installation
Hi-Fold Doors are custom built for every job and shipped to your building site completely assembled and wired. When you're ready to install, simply hoist the door into place over the opening, fasten the hinges to the building header, adjust the high clearance auxiliary arms and connect the wiring to your power source. Except for applying the skin, your Hi-Fold Door is ready to operate.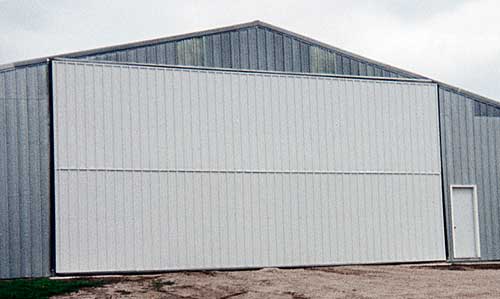 Retrofit Installations Retain Full Door Opening Clearance
Hi-Fold Doors are ideal for replacing worn-out or hard-rolling sliding doors, troublesome overhead doors and closing doorless opening on existing buildings without changing building design. In-place headers are normally adequate for mounting the door. Side-wall installations can be made without changing the roof line. Original door opening clearance is retained. Installation is simple, easy and fast.